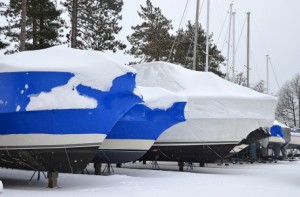 If you own a boat you know how important it is to store it properly for the coming winter. Failure to correctly winterize your outboard motor can lead to costly maintenance repairs that most insurance companies do not cover.
Proper care of your motor.
Here are a few simple steps you can take to ensure your outboard motor will work correctly when you decide to take it out in the spring.
Top off your gas tank and add enough stabilizing fluid to keep condensation and spoilage from happening in your gas tank during the coming months. One of my favorite motor/gas treatments is Sea Foam. Sea Foam does an excellent job of stabilizing gas and cleaning oil deposits from your motor.
"Fog" your carburetors. Connect your "Bunny Ears" (otherwise known as a flushing attachment) to your motors water intakes, turn on the water and start your motor. While the engine is running, remove the fuel line to the carburetor. Have your can of fogging spray ready, and as soon as you disconnect the fuel line, start spraying the oil into the carburetor. When the engine shuts down from lack of fuel you can remove your "Bunny Ears" and turn your water hose off.
Change your spark plugs.
Check your boats owner manual on how to drain and replace your motors gear case fluids.
Store your engine in the down (operating) position. Always make sure to store your boat in a covered garage with your drain plug open!
With just these simple steps you can be assured that your motor will happily turn over in Spring.
Cleaning and covering.
After the motor has been winterized, it's very important to make sure that your boat is prepared to be shrink-wrapped or stored at a facility. The following tips will help with the longevity of the boat, and ensure less work in the spring.
Unpack the boat, removing all gear and other items that could potentially rot or freeze during the winter months
Remove electronics, including your battery, and store them in a warm, dry place. Clean the battery terminals to remove corrosion, and grease them lightly. Give the battery a full charge using a charger designed specifically for a marine battery and check fluid levels.
Clean the boat with a good scrubbing, washing all the dirt off of the seats and decking. Leave interior lockers open for more air circulation.
Air it out and let it dry. If it's damp at all, the potential for mold is greater. You might also want to place mildew control bags throughout the boat, and within compartments so you're not greeted by a nasty stink next spring.
Shrink-wrapping will keep the boat dry and well ventilated, meaning less chance of mildew. Either hire someone who specializes in shrink-wrapping or you can purchase do-it-yourself kits at marine stores for boat 25 feet and under.
If you have a large garage, storing it yourself is a cost-saving way to ensure its safety, and it allows the bonus of being able to work on your boat. Otherwise, most lake communities will have affordable, self-storage options which include a secure outdoor facility and a quality boat cover or shrink-wrapping.
From Lake Home and Cabin Show
From The 2014 Lake Home and Cabin Show